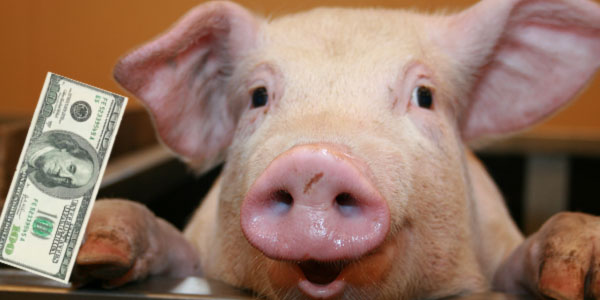 Smart Pig, a student loan service that has lent money to over 7,000 students as of April, has come under fire recently. Stella Creasy, a campaigning MP, has decried the program's practice of charging students twice for the same debt. She has demanded that Financial Conduct Authority take a closer look.
Smart Pig is in the headlines because of its unique practice of not requiring a student to produce proof that they are employed. Instead, all Smart Pig asks its applicants for is proof of their loan.
Creasy has already spoken out against this practice, citing Smart Pig's annual interest rate that clocks in at 1,089%. These harsh interest rates are hurting many students' chances of receiving their secondary education. Many students have been forced to drop out because they are unable to pay off their debts in a timely fashion.
Smart Pig's ad campaign has been brought to the attention of the Financial Conduct Authority, in addition to the Advertising Standards Authority. The company is considered to be excessively targeting undergraduate students who are destitute and not likely to be able to pay off the debts.
The National Union Of Students has also gotten involved, believing these practices to be unfair. Creasy calls these practices "heinous", since they do not give students the chance to earn an income, instead encouraging them to borrow against a loan and trap themselves twice over.
Students are essentially taking college courses, without knowing whether they will have the ability to pay them off upon completion. The only proof that Smart Pig requires when lending is that the student has paid their installments with the Student Loans Company. They also have the power to withdraw their payments directly from a student's personal accounts.
Financial Conduct Authority rules state that a student must only be lent money by state lenders who are have strong reason to believe that the student will be able to pay them back without having to take a second loan. By offering money within an hour and using flashy ad campaigns that conceal the truth, companies like Smart Pig are exploiting youthful borrowers.
Colum McGuire, vice president of the NUS, believes that these ad campaigns are shameful and need to be stopped. Smart Pig's advertising fails to mention their excessively harsh interest rates and have been turned over to the Advertising Standards Authority.
Students who have not even begun college coursework are among those being targeted by Smart Pig's unfair tactics. For their part, Smart Pig's founders are refuting the claims made by Creasy and McGuire, claiming that their intention was to build an honest company. They have stated that their company is a viable alternative that allows students to lend money at ethical rates.
Source: [Mirror]