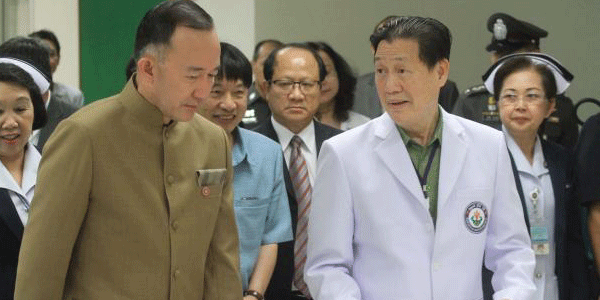 [PHOTO via NATION] Following the tragic news that a female farmer lit herself on fire after falling deeply in debt to a loan shark, police have refocused their efforts on regulating the activities of over 3,000 money lenders, none of whom are beholden to any financial institutions.
Tired of watching loan sharks terrorize the population with their ruthless collection practices, the Deputy National Police Commissioner General Worapong Chewprecha has stated that there will be zero tolerance for these sort of tactics going forward.
Sangvien Raksapetch, a local farmer, set herself on fire amid an ongoing debt to a loan shark, prompting Chewprecha's harsh rebuke of these intimidation efforts and scare tactics. The woman had turned to government officials for help, but to no avail.
At press time, Raksapetch is still alive in a local hospital, but her long term prognosis is uncertain as her conditions only continue to worsen. Her younger sister states that while she did loan BT 350,000 over four years ago now, the loan shark claimed that Raksapetch's debt had risen to 3.5 million.
It was only after the family told the authorities about this outrageous and infuriating gambit that the loan shark reluctantly agreed to lower Raksapetch's debt to 1.5 million, an amount that was still far out of reach to the farmer and her concerned family.
Raksapetch reportedly not only tried to pay the debt off in a timely fashion, but had also agreed to a whopping interest rate. Unfortunately, her crops did not grow as she expected, making it much more difficult to come up with the loan shark's preferred amount of restitution.
This is a problem that is occurring throughout the nation. In Bangkok, a market vendor confessed to reporters that they had been a victim of a similar loan shark scheme. The loan shark had lent her BT 10,000 at an interest rate that has to be seen to be believed: 30 percent, daily.
Even after repaying the lender BT 400,000, the vendor's home was raided, with threats being made on their life. Thailand's Lawyer Council, recognizing the growing problem, is now urging those who have been trapped into similar agreements to seek help before it's too late.
The council claims to have BT 25 million at the ready, waiting to help those who are in need. While Raksapetch's lender has agreed to cancel the debt, her sister Janja has expressed concern that the agreement is not in writing yet.
The Lawyers Council is now in the process of looking into laws that can be established to avoid future incidents. The council also promises to educate local farmers and merchants about their rights to a fair debt repayment plan. All of this sends a clear message to loan sharks: your activities are not welcome in this society and if caught, you will be punished.